Archive for the 'Apps' Category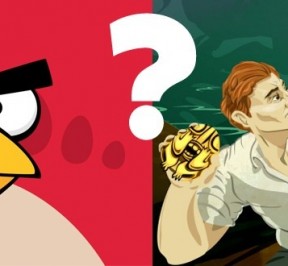 May 29
So you finally got rid of your Nokia 3210 (which was on a cheap contract), let your Sony Ericsson meet its maker (that had a great camera on) and joined the 21st century by getting a smartphone. Welcome to the gaming revolution!
Today, you don't need to have a computer or a video game console to enjoy great gaming entertainment. If you have a smartphone, there are tons of game apps that you can download and enjoy. At your convenience and on the go, you can play a wide range of topnotch mobile games that are incredibly fun and exciting. So where do you start when choosing your first games? Two of the most popular games that are easy to play, are free, and are hugely addictive are Angry Birds and Temple Run. Both games are available for Android, iOS, and Windows Phone operating systems.
Start with the classics
Angry Birds and Temple Run have been very successful and popular since their initial releases. This has not only lead to sequels and spinoffs for both game franchises, but also combined license games, such as Angry Birds Rio, which is based on "Rio", the animated film from 20th Century Fox, and Angry Birds Star Wars, which focuses on the original Star Wars trilogy. Likewise, Temple Run also has its popular combined license spinoffs including Temple Run: Brave, based on the Disney movie "Brave", and Temple Run: OZ, which is based on another Disney movie "Oz: The Great and Powerful".
In addition to these two popular game series, other fun games for smart-phones include: Doodle Jump, Fruit Ninja, Bejeweled 2, Words with Friends, Tiny Tower, Bubble Shooter, Slice It, Mega Jump, Cut the Rope, Tetris, and several other new and classic games.
Take it further
So now you have taken those tentative steps into mobile gaming, why not join the indie gaming revolution too and create your own games? If you are interesting in game development and monitizing those games you may find that appnext mobile web development ad tools can help grow your user base, allowing you to make your app successful without you having to spend a fortune on your advertising campaign. Smart targeting and other unique promotion tools make it easy for application developers to find success with their smartphone mobile game apps.