Archive for the 'iPhone' Category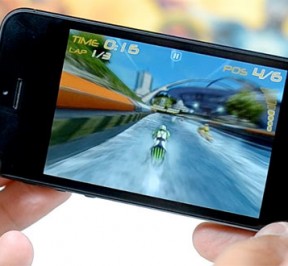 Mar 21
Everyone has an idea in mind of the key features and functionalities that they desire in their phones. For iPhone consumers, one of the top key features them our driven to be games. With a higher interest in games, iPhone is crowned "mobile device king" by an end of the year study this past year. Data driven from users of popular platforms such as Androids, iPhones, and Blackberries, iPhone conquered far above its opponents when it came to devoted gamers. This provides interesting feedback about iPhone consumers.
It's All in the Numbers
iPhone gamers come from a wide spectrum of interests and tend to be very loyal to their playing time. It is recorded that iPhone gamers play their games of choice typically 743.1 minutes on a monthly basis. This number far exceeds the Android gamers who clocked in at 484 minutes on a monthly basis. So iPhone attracts their consumers to their games and then captivates them into playing on a more regular basis than any other mobile device platform.
And the numbers are just rising! With more mobile consumers turning towards smartphones, gaming popularity is just increasing among Americans. In a couple of years, estimation 2016, more than half of mobile consumers are going to be dubbed iPhone gamers.
The most striking data derived from the increase popularity of iPhone gaming is that it has been determined that iPhone game features are used significantly more than any other feature on the iPhone. Popular features such as texting, social networking, and even the basic phone call, all fall short of the minutes used by iPhone games and their devote gamers.
iPhone even Appeals to Game Developers
It is true that the market of Android is open source; however, top notch game developers prefer developing their product on iOS versus Androids. Think of the iPhone as a "playing field." Most extremely popular and successful games that people of all interests flock to be probably introduced on the iPhone first. After the game proves in its success, it may then be converted and developed into an Android game. So die hard mobile gamers, who typically want "it" first, tend to migrate to the iPhone knowing they can get the latest and greatest from top game developers first.
Game developers have even been stumped into thinking that with the high success of their product on iPhone it would do just as well or better on the Android. However, in some cases this is proven false. This all relates deeply on that iPhone gamers are more devoted to their favorite games and out play an Android gamer any day. I phone devices themselves are much more advanced devices than that of most android driven devices. Apple has created the iPhone in such a way that it utilizes each aspect of the device and typically out performs the Android. What this means is that for the most part iPhone game developers can experience their game on a better platform and device to get the full experience of their game.
In conclusion the iPhone is the best testing and developing platform for mobile games. Expect big things from our iPhone game developers and even bigger things from our iPhone developers themselves. This is not a hard thing to imagine considering the iPhone consumer expects big things so under delivering is not an option.
In the near future we should expect machines that are faster smaller and capable of allowing the gamer to experience a much more lifelike streamlined gaming experience than ever before. iPhone developers know that game developers and consumers are counting on them so look out and expect the unexpected.
Related articles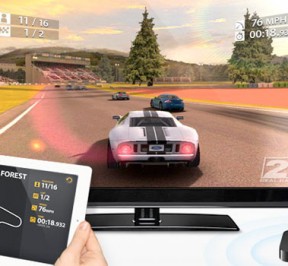 Mar 11
Airplay Enabled Games for Apple TV has increased in numbers considerably. Many third-party developers are taking up the challenge to create games that can be appealing and easy to play on Apple TV. These developers have made the games so that they could be translated smoothly from small screen to the bigger screen. There are 4-5 million users of Apple TV. Here is the list of games for Apple TV.
Real Racing 2 was one of the early ones that got used to IOS Airplay and still one of the best games. The game is also available in HD version. The price without HD is $4.99 while with HD is $6.99. It is like bridging the gap between the mobile games and console games. While one is playing the game on TV, the iOS device shows the tracks.
Touchgrind BMX is another favorite game that people would love to play using Airplay. Touchgrind was already there in the market but now it has got the support for AirPlay. This game has the cost $4.99. It allows the player to control the MBX. There are 3-D visuals that give amazing effect and the game is worth purchase. The iOS device can be used to control the ride on the TV through AirPlay.
Modern Combat 3:Fallen Nation is one of the most interesting game that was released earlier on iOS and is now available on AirPlay. The graphics are excellent and are comparable to that of the Console game like Call of Duty. With AirPlay , this one of the best first-person shooter games is just superb. The game which has the cost of $6.99 allows the player to go on a long mission from Los Angles to Pakistan.
FIFA 12 is the game for all. Whether a person like soccer or not, this Airplay enabled game which has the cost $4.99(the normal version) and $9.99(HD version) is fun filled. The players can enjoy everything that happens in the real soccer world. Right from trading of players to jersey changing, all the activities that can happen on the soccer ground and the backstage can be found in this Airplay enabled game. The players would need EA's Gamepad from the app store to control the players on the TV using Airplay on the iOS device. Two iPhones can be used at the same time so one can have a head-on-match along with the friend to enjoy the maximum out of FIFA 12.
Finally, Chopper 2 ($2.99) is the sequel of the popular Chopper game for iOS device. It has got unique game play with about 35 missions that are planned over 12 locations and 2 choppers. The price is much more reasonable and it looks great on the big screen but with only two choppers and no downloadable content it has limited game play.
With the Ouya on the horizon, Apple TV have a great opportunity to get a console in the home. With rumors of blue tooth connectivity on future Apple TV boxes this opens up the possibility of peripherals to be connected and more games to be added. We wait with baited breath to see what the technology giant is going to do.