Archive for the 'Website Design' Category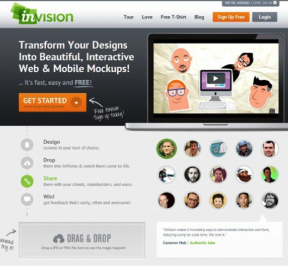 Apr 18
With more and more people creating both personal and commercial websites it makes sense that web design wireframe tools are on the rise. Rather than using desktop versions of these applications, many website prototyping tools are now cloud based; meaning that they can be accessed via a web browser, shared online and updated by multiple users.
Here are the top 10 cloud-based website prototyping tools currently available for use online.
Cacoo
Cacoo is an ideal website prototyping tool if you find yourself working with developers all over the world, as it currently supports more than twenty languages. As well as being multilingual, Cacoo also supports real time collaboration; enabling multiple parties to work simultaneously on different aspects of your site.
While your SEO guy is using Cacoo to craft your copy, your web designer can also apply the finishing touches to your layout and graphics. Users have the option to make projects private or public, and public projects support comments from non participating users; giving you access to feedback on your new site before it even goes live. Genius!
Creately
Like Cacoo, Creately also supports real-time collaboration; however, it only supports seven languages. Creately offer both an online version of their application as well as a desktop version (suitable for Windows, Mac and Linux systems), and the desktop version will sync with the cloud once an internet connection is established.
Creately is a great tool for any developer looking to create wireframes offline (after all, even a developer needs time away from the web!)
Gliffy
The brains behind Gliffy claim that it is 'the most widely used online diagramming application'; and while this may be true, Gliffy lacks features that other apps listed here offer. For example, although Gliffy can support a variety of different diagrams and it will allow multiple users to have access to a single project, it does not support real time collaboration.
However, Gliffy handles undoing changes more smoothly than its competitors. Every time a change is made to a project the last version is saved and archived. Should a collaborator make a change that you are not happy with it is very easy to reinstate one of the previous wireframe designs. Gliffy also integrates with a number of third party applications including Google Apps and WordPress, and it also has its own API.
HotGloo
HotGloo claims that it will 'change the way you create and experience wireframes', and it can certainly be said that this slick interface includes features that other website prototyping tools do not offer, such as an integrated chat feature; allowing all participants to discuss the project while drafting the wireframe and layout designs.
Like many competitor products, HotGloo supports real-time collaboration, making it easy for multiple members to work on a single project.
iPlotz
iPlotz is an unusual tool in the sense that it does not have a standard user setup. Instead, iPlotz offers three access levels; preview, wireframe and manage.
Preview users can access the site for free, and they can look at wireframes but they cannot modify them. Wireframe users can obviously modify a wireframe, but they have to pay for the privilege. Finally, manage users can add and remove other users, and they can also manage user permissions.
iPlotz also supports a desktop version, which like Creately will sync with the cloud version when 'Online Mode' is selected.
Invision
Invision is a great tool for the non geeks; for those who perhaps want to create their own personal website or a small business website. You don't need technical knowhow to manipulate the drag and drop interface within Invision.
If you are a developer, you can still find Invision useful. Its user management features make it easy for you to only provide access where it is needed, and Invision gracefully handles any dialogue between developer, collaborator and client within the application.
Lumzy
Lumzy may be a very young website prototyping tool, but it is quickly making waves with users and developers alike. For a start Lumzy offers an integrated image editor that allows users to perform simple image adjustments, such as cropping and resizing. It also offers real-time chat functionality, much like HotGloo.
Lumzy also offers features that can be considered advanced website prototyping, allowing developers to demonstrate more complex interactions compared to other wireframe tools.
Mockingbird is one of the few Flash based website prototyping tools on the market. While this is great for Windows systems, it's unlikely to be so great for Apple based devices. However, like so many of its competitors, Mockingbird does offer real time collaboration, and wireframes can be exported to PDF for use outside of the internet.
Pidoco focuses its features more on the testing of prototype websites, rather than the developing of them. However, the features it does offer for the testing and debugging processes are invaluable. For example, developers can record testing sessions and they can see the user's screen. Developers can also use the integrated chat facility or the VoIP feature to communicate with clients and testers real-time.
ProtoShare
Perhaps one of the most difficult aspects of website prototyping is trying to represent graphical elements with a simple diagram. Anyone unfamiliar with what the web is capable of may struggle to envision what it is you are trying to portray. However, ProtoShare may be the website prototyping tool for you. ProtoShare supports the use of CSS and JS, enabling developers to demonstrate custom components and complex interactions.
Another awesome feature that ProtoShare supports is the quick and easy conversion of onsite comments into actionable tasks, which can greatly speed up the development, debugging and project management processes.
Related articles