Posts Tagged 'App Store'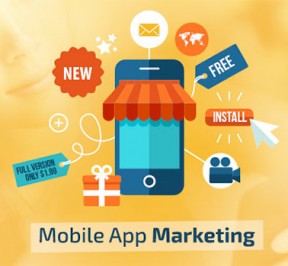 Aug 08
There are over a million apps in the Google and Apple stores and you'd think that with such choice the evolution of marketing would be complete. However it's taken more than 4 years for the market to realize a middle ground.
If you take a look at app marketing's very brief history you will notice that it went through 3 distinct phases, and that we are currently still in the 3rd one. Each stage clearly indicates how technology advanced in a short space of time, and how mobile users stopped seeing their devices as a novelty and started using them as a tool.
In the early days of app marketing Apple dominated, but following android's explosion into the market and the availability of 3rd party apps, Apple had to reassess its objectives and strategies as the marketing playing field became more of a minefield.
At first the emphasis was largely on volume and how many people could be encouraged to download a specific app, by any means necessary. This then indicated the popularity of an app but did not serve to illustrate how many people actually made use of it.
At around 2011 there was a shift and app marketing not only focused on volume, it turned its attention to performance tracking and quality, and incentivized apps were recalled. Marketing of apps then shifted focus on to how the app could offer the user an enhanced experience and the benefits offered, and rather than just simply racking up statistics, app marketing became more customer centric.
It's safe to say that recently the focus shifted once again and value and ROI became top priorities.  With brands such as MobileCasino.co.nz offering apps that rivalled the online offerings, users have become accustomed to downloading programs that offer longevity.
It seems that these 3 phases were spurred on not only by technological advancements but by mobile marketers realizing that if the app industry was to have staying power it needed to offer users an experience that would keep them engaged , whilst still being monetized in some form or another. Whilst many apps are free to download, users may have to pay for add-ons or additional game features, or be subjected to in-app advertising. For now it seems that the evolution of app marketing has reached a level plane, but whether it stays there remains to be seen.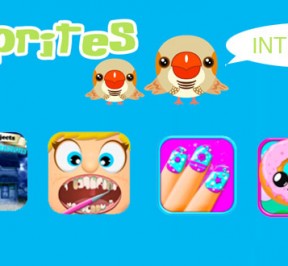 Oct 28
When it comes to children's games, not many indie developers have such an extensive back catalog as Beansprites, a small team from California who have covered cafe culture to dentistry is their myriad of colorful games.
1. What made you want to make games primarily for young children?
The decision to make apps for kids was something that just occurred organically – I've always been a fan of all genres of video games, and I especially loved light-hearted platformers such as Castle Of Illusion: Starring Mickey Mouse for Sega Genesis, that could easily qualify as a kiddie platformer.
I was also no stranger to playing games like "Putt Putt goes to the Moon" – which was a 2D point and click learning game for kids. I would experiment with all genres, but the kids app genre is always what appealed to me the most, and also where ideas came naturally.
2. Do you approach children's game design in a similar way to adult game design, or is the process different?
A majority of the applications you see in my portfolio are geared towards the very younger age group, probably starting at 3 and up. I approach game design in a similar way for the majority of my apps – encompassing a very intuitive user interface where even a 3 year old could pick up and play the game without any assistance from a parent or teacher. I've even had reviews where parents have stated it was easy for their kid to get started, and they didn't require any help. That is my goal for the initial experience – of course, keeping them engaged for long periods, and having them come back to my app over and over is another very important goal in game design – especially for kids of a younger age bracket who tend to have much shorter attention spans than the older kids and "tween" crowd.
3. What game style or type have you found to be most successful in your experience?
It's difficult to pinpoint one genre, because it changes all the time depending on what consumers want to play – basically I study what is trending in the app store in terms of popularity and try to design an app with a twist, and add more unique features to that app that will make it stand out from the rest. In previous years, food apps have been very popular, but the focus has changed to other app genres, and adapting to that change is crucial to success.
4. You charge a minimal amount for your games, why did you chose to avoid the free to play model?
For the paid model, 0.99 cents is the most I will charge for my apps given their content and genre – namely that they are geared towards kids – I've avoided the free to paid model for Nook & Amazon, but institute iAP for iOS – Each App Store is different in terms of what works, and I may institute a free to play model for Amazon and Nook in the future.
5. Which platform do you prefer to make games for and why?
I enjoy working with all platforms – I always prefer iOS as I prefer their operating system, but Android is a market that is booming right now – I think it's very important to consider all markets, even obscure ones that you think may not be successful.
One tip I have is if you're making educational games for kids, go read up on some activity books you find in the kids section at Target, or Barnes & Noble – buy a few of those, and study those activities, and try implementing them into an app – there are endless possibilities for educational apps in the app store, and apple is always looking to feature new and innovative products! If you have a unique art style, that also helps – games from developers like Duck Duck Moose, and Toca Boca have a very unique art style, and branding that you would recognize immediately if seen on the app store.
7. Which game has been your most successful to date and why do you think it was so popular?
One of my initial, and most successful games that propelled me into doing this as a full-time business was "Fairytale Preschool" – this was a very basic, kids educational app for iOS which featured activities like finding the right color bottle, counting games, memory matching etc. This one was featured by apple under New & Noteworthy, and reached the top 100 games on the app store. It also reached the top 5 position on the education category all by itself, without any marketing. Of course, fast forward 3 years later to present time, and this kind of app would never have achieved the success it did back then.
8. What channels do you market your games on and which drives the best results?
I use Facebook, Twitter as the primary marketing outlets. There are also ad campaigns that you can run to drive installs to your apps, but they work better with free models for applications and games. Free App of the Day is another good example of marketing, but they charge a pretty penny for their services.
9. Like many game designers, do you have a BIG game in you which you will eventually build?
We are currently working on a 2D adventure game which will be released by next year – that is the big game that I've always wanted to work on, and it's the biggest, most daunting project I've ever worked on to date.
10. What title(s) do you have in development at the moment?
At the moment, we are working on the 2D adventure game, full steam ahead! I also still make time for the kids apps, and if I see something trending, I will work on a piece for the app store. The holidays are coming up, so holiday themed apps are also in the works!
Finally, what would you say to your younger self when she first started creating games…
Be prepared for many sleepless nights, and long work hours! 🙂
For more information on Beansprites games and apps, please visithttp://www.beansprites.com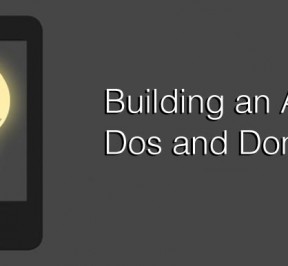 Jul 09
You have a problem. You create a solution. You want to share it with the world via a mobile app. How the heck do you build one?! No need to fret, your friends at Fueled have compiled a quick reference of some dos and don'ts for the app building process.
DO your research, and have a strategy. Not every app idea has been thought of, but a lot of them have. There is a very good chance that your idea could already exist in some capacity. Search app stores, read tech blogs, find rumor mills; due diligence can save you time that would otherwise be wasted creating something that already exists. If you complete the research and find there is a need for your app, have a strategy for how to proceed. We at Fueled take great pride in our ability to build winning strategies for apps, from concept to launch and beyond. Organizing thoughts, setting deadlines, and paying attention to details will make the app building process flow much more smoothly.
DON'T forget the execution. You have your idea, done the research, and have a strategy; now what? Proper execution. Even the simplest idea can become a great app, as long as the follow-through of the plan is on point. Instead of imitating another app's layout, enhance the best qualities and make it better. Focus on developing an intuitive UX and responsive UI. Users want apps that work well and serve their needs the instant it is downloaded. This is also where a well-thought-out strategy can come in handy as it will help create checkpoints throughout the dev process, allowing you to evaluate the progress. Ideas are a dime a dozen, execution is key.
DO focus on building a product that you will use. If you have no interest in or don't have a use for your own product, you will likely end up with an inferior result. Having a passion for your design and function will show and be important to investors and consumers. Additionally, constantly test any assumptions you have throughout the design and dev process. Updated layouts, additional functions, anything you think will improve the app overall is worth a test because you can always go back to the way it was. This process will ensure that you are building an end product that makes sense and has value to users.
DON'T rush your launch. Everyone is excited about their product and wants to launch as soon as possible. However, here are many reasons why you shouldn't do this. For starters, it takes time to build a quality app. No matter how simple it may seem, design, development, and testing all take time. Even when the app is completed, work must be done to properly market the product prior to the launch. You will want to build media relationships if you do not already have them, launch a website, and build a buzz around the product. Weeks are not enough. Months of planning, organizing, and action are needed in order to have a successful launch.
DO take the time to test. Simply having a couple of your friends play with the app does not count as testing. Friends and family are not your target market, they will download your app simply because they love you and want to help out. Seek out agencies or other professionals in order to get useful feedback. Outside testers are potential consumers, they should be using your app. The goal is to gather constructive criticism, opinions, and relevant data that will allow you to make little tweaks based on user feedback during beta before your big app store launch.
DON'T think it's done just because it's in the App Store. Being in an app store simply means your app is accessible, not that people will be able to easily find it. An app store optimization strategy will be needed to increase visibility. This should be a big part of the strategy. Additionally, the app will likely have some bugs, need to adjust to user complaints, and have new feature introduced at times. Updating too frequently is not necessary, but no app is ever complete at version 1.0.
DO make sure you work with the right partner. Whether it is a friend, a freelancer, or a shop like Fueled. Depending on your goals, it may make sense to partner with different people. Typically for a prototype, working with a freelancer may make sense so you can demonstrate proof of concept before investing in really polished design and high caliber development which will serve as the foundation of your product after its commercial launch.
Written with love by the editorial team at Fueled, a premier Android app design agency in New York City.
Related articles