Posts Tagged 'twitter'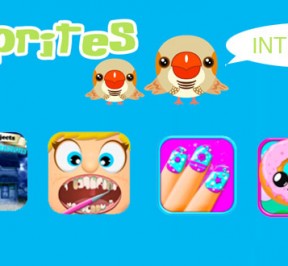 Oct 28
When it comes to children's games, not many indie developers have such an extensive back catalog as Beansprites, a small team from California who have covered cafe culture to dentistry is their myriad of colorful games.
1. What made you want to make games primarily for young children?
The decision to make apps for kids was something that just occurred organically – I've always been a fan of all genres of video games, and I especially loved light-hearted platformers such as Castle Of Illusion: Starring Mickey Mouse for Sega Genesis, that could easily qualify as a kiddie platformer.
I was also no stranger to playing games like "Putt Putt goes to the Moon" – which was a 2D point and click learning game for kids. I would experiment with all genres, but the kids app genre is always what appealed to me the most, and also where ideas came naturally.
2. Do you approach children's game design in a similar way to adult game design, or is the process different?
A majority of the applications you see in my portfolio are geared towards the very younger age group, probably starting at 3 and up. I approach game design in a similar way for the majority of my apps – encompassing a very intuitive user interface where even a 3 year old could pick up and play the game without any assistance from a parent or teacher. I've even had reviews where parents have stated it was easy for their kid to get started, and they didn't require any help. That is my goal for the initial experience – of course, keeping them engaged for long periods, and having them come back to my app over and over is another very important goal in game design – especially for kids of a younger age bracket who tend to have much shorter attention spans than the older kids and "tween" crowd.
3. What game style or type have you found to be most successful in your experience?
It's difficult to pinpoint one genre, because it changes all the time depending on what consumers want to play – basically I study what is trending in the app store in terms of popularity and try to design an app with a twist, and add more unique features to that app that will make it stand out from the rest. In previous years, food apps have been very popular, but the focus has changed to other app genres, and adapting to that change is crucial to success.
4. You charge a minimal amount for your games, why did you chose to avoid the free to play model?
For the paid model, 0.99 cents is the most I will charge for my apps given their content and genre – namely that they are geared towards kids – I've avoided the free to paid model for Nook & Amazon, but institute iAP for iOS – Each App Store is different in terms of what works, and I may institute a free to play model for Amazon and Nook in the future.
5. Which platform do you prefer to make games for and why?
I enjoy working with all platforms – I always prefer iOS as I prefer their operating system, but Android is a market that is booming right now – I think it's very important to consider all markets, even obscure ones that you think may not be successful.
One tip I have is if you're making educational games for kids, go read up on some activity books you find in the kids section at Target, or Barnes & Noble – buy a few of those, and study those activities, and try implementing them into an app – there are endless possibilities for educational apps in the app store, and apple is always looking to feature new and innovative products! If you have a unique art style, that also helps – games from developers like Duck Duck Moose, and Toca Boca have a very unique art style, and branding that you would recognize immediately if seen on the app store.
7. Which game has been your most successful to date and why do you think it was so popular?
One of my initial, and most successful games that propelled me into doing this as a full-time business was "Fairytale Preschool" – this was a very basic, kids educational app for iOS which featured activities like finding the right color bottle, counting games, memory matching etc. This one was featured by apple under New & Noteworthy, and reached the top 100 games on the app store. It also reached the top 5 position on the education category all by itself, without any marketing. Of course, fast forward 3 years later to present time, and this kind of app would never have achieved the success it did back then.
8. What channels do you market your games on and which drives the best results?
I use Facebook, Twitter as the primary marketing outlets. There are also ad campaigns that you can run to drive installs to your apps, but they work better with free models for applications and games. Free App of the Day is another good example of marketing, but they charge a pretty penny for their services.
9. Like many game designers, do you have a BIG game in you which you will eventually build?
We are currently working on a 2D adventure game which will be released by next year – that is the big game that I've always wanted to work on, and it's the biggest, most daunting project I've ever worked on to date.
10. What title(s) do you have in development at the moment?
At the moment, we are working on the 2D adventure game, full steam ahead! I also still make time for the kids apps, and if I see something trending, I will work on a piece for the app store. The holidays are coming up, so holiday themed apps are also in the works!
Finally, what would you say to your younger self when she first started creating games…
Be prepared for many sleepless nights, and long work hours! 🙂
For more information on Beansprites games and apps, please visithttp://www.beansprites.com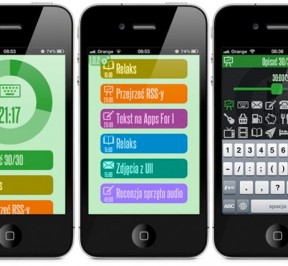 Oct 02
Being a freelancer can be tough and whilst you might rock at designing and developing we can sometimes let ourselves down when it comes to organizing yourself, project management and marketing. If like me, you need all the assistance you can when it comes to getting organized then these apps are sure to help.
Wunderkit
Project management can be complicated, time consuming and expensive. Wunderkit aims to simplify the process by breaking it down into notes and tasks. First you create a project (of which there can be many) and then you can add various to-do lists and assign them to team members and set deadlines and reminders. The notes section allows team members to add their own notes, comment of the different notes on the project and 'love' them to show approval or appreciation.  Projects can be private or shared with the world and it connects seamlessly with Twitter and Facebook. If you have many 'ideas' floating about this is a great app to keep them organized and the fact it has both an iPhone, iPad, Mac app and website means it's easily accessible from wherever you are.
Evernote
There is a lot to see and read on the internet and whilst browser bookmarks have their uses, Evernote takes it a step further. We have all been there; we see something which could be useful in the future and we bookmark it. A few days, weeks or months later we need it and try desperately to remember the company or url (we know the gist) and even wade through our browsing history in the hope to see the obscure web address. With Evernote you can collect photos, audio clips, urls and even whole websites to pursue at your leisure and you can categorize them in 'notebooks' add tags for easy searching later on. The Mac app gives the user a clear user interface that even lets you take screen grabs of what you are looking at. The mobile app comes into its own when recording audio notes and the combined cloud storage means you have all your bookmarks in the ether to use as and when you please, from any device.
Flipboard
Flipboard is my own personal industry press delivered daily to my iPad and iPhone. By connecting industry news websites, blogs and by following useful Twitter and Google feeds I can get up to date news and comments on everything that is going on in the world of design and development. It's intuitive interface means I can flick through the pages with ease and have a magazine that not only features design stories but also updates from my family and friends in the form of Facebook posts, Flickr and Instagram images.
Wordpress
WordPress is one of the most popular blogging platforms on the internet. It is also used more and more as a content management system for websites due to the large number of plugins and skins that are available for it. Any developer worth their salt will tell you that having a wordpress CMS has more advantages than disadvantages. One such advantage is the addition of a mobile app allowing you to manage your wordpress based websites. The app allows you to add multiple sites and users can add pages, news posts, view comments and view the websites stats. Although this is a streamlined version of the full content management system it works beautifully. Casual users can take photos and upload them directly and business users can prepare news articles or work on page content whilst out of the office. All content can then be set as a draft or published live for all to see.
Dropbox/Google Drive
In a world where users jump from device to device, it is essential for all businesses in the information age to have some form of cloud storage. Personally I work on a desktop whilst in the office, a laptop when meeting clients or on-site, an iphone when on the move and an iPad when sat at home. Cloud storage allows me to have documents, spreadsheets, photos, and even video files all accessible on every device, meaning what I just wrote on the train is ready for me to complete when I get into the office. Both Dropbox and Google Drive allow you to store and view these files, however Google Drive does have an offline mode which is useful for air travel (or when on the underground). Once you start using these you will wonder why you ever saved things to your hard drive.
Dragon Dictation
Although this application might be more specialist to certain types of business it is still worth mentioning. Dragon Dictation is great at writing down what you say. Dragon has been at the forefront of voice recognition for years and their latest 'free' app gives me the freedom to just think and talk. It alleviates me of the burden of finding letters, worrying about spelling and having my fat fingers podgilly prod the wrong keys. So whether you are transcribing an article or just having a rant about some industry news, let the Dragon do the writing whilst you hold your train of thought. The interface is simple to use with just a button to press to start. Obviously it's not perfect and may have trouble with some accents but if you are one of the 'vocally acceptable' few then this can be a trusted companion in business.
Skype
I can't tell you the amount of money I have saved using Skype for international calls. Not only that but it works as great instant messenger between clients and myself. Emails are great for longer messages and feedback, but when you just have a question to ask Skype is fantastic at finding out information fast. In the office we also use it to share links, send files and chat if there are other things going on in the office such as meetings or presentations. Skype has revolutionized how businesses work and so being connected to the conversations on both your desktop and mobile device is critical.
Paypal
Paypal for business is quite simply useful. Most big ticket items and main client payments is done through traditional invoicing and bank transfers, but if you run a small business, or just wanted to offer familiar, secure payment type for small amounts than Paypal is ideal. The mobile app gives easy access to payments in and out, and from the app you can send or request money. A simple password at login means you don't have to worry about code generating dongles, secret pins, or waiting for the sun to be at the right place in the sky in order to access your account details. Although Paypal's 'cut' is relatively high, it is a useful app to have whether you are getting something for the office on ebay or shopping on requesting payment for a small run print job for a local firm.
Hootsuite
Social networking has become a behemoth thundering into all aspects of modern life. People's lives are on Facebook, their discussions are on Twitter, and their business networks are on Linkedin. Is its vital that in this world of conversations and recommendations that businesses not only have a presence on these networks but are actively involved with the discussions taking place. Hootsuite allows you to post to Facebook, Twitter, Foursquare and Linkedin through an easy to use message panel, as well as, browse the streams from your various social accounts. Keeping up with what is happening in these 'social spheres' can not only be useful but profitable. This is an ideal app if you aim to post similar information across the various networks, or if you are mainly on the move.
30/30
The Pomodoro method is a technique which aims to increase your focus and in turn productivity by breaking tasks into 25 minutes of work followed by a 5 minute break. There are many apps which help you apply this method to your work, however, some tasks longer than 25 minutes. This is where 30/30 comes into its own. It is essentially a to-do list with a timer. You can create a list of tasks, assign them a time limit and then press the big 'play' button. Lists can be created for jobs that need repeating and you could even use it in the gym to keep your workout on track. In industries where you charge by the hour it is useful to have an app which keeps you on schedule, as it is easy to get lost in the creative process and forget the clock.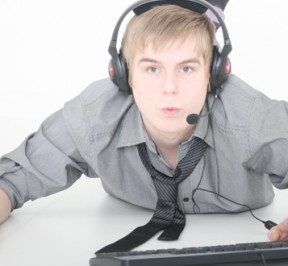 Jul 17
Let's say that you are creating a game and you want to build anticipation among the gaming hordes. Furthermore, let's say you're not one of the giants, and thus your resources are limited. Regardless, you and your partners have designed this awesome game for the iPhone, and you want to generate excitement about it, which in turn will morph into paying customers, thereby allowing you to continue in your dream job of designing games. How do you go about achieving this dream?
First and foremost, creating a blog, especially one told from the point of view of the designer, is essential, as in mandatory. Not only does it get your company/product name out there, it gives people a chance to take a peek behind the curtain, and get excited about what they see. If you do in fact create a blog from the perspective of the game designer, people can follow along and see the progress, and anticipation builds as the release date gets nearer. If you can fit in a few sneak previews, screen shots, advance details, then so much the better.
Hooray! A company I never heard of is coming out with a game I know nothing about!
Let's Be Social
Put together a Facebook page dedicated to the game. This is even easier to do than a blog, and considering the strong gamer community on Facebook, you have an instant audience. Don't forget Twitter, either. When it comes to financial outlay and time, it doesn't get any easier than social media.
Conventional Thinking
Okay, now we're getting into a pricier realm here, but as the old adage goes, you have to spend money in order to make money. If you have an advertising budget set aside, then it's time to start dipping into it. The thing is to not wait until after the game is released; you need to generate advance buzz. Naturally, in order to do so, you must already have a good idea what the game is about and how it'll turn out. And you don't even really have to go all out; get some cheap t-shirts printed up, or colorful information handouts, something that stands a good chance of sticking in gamers' memories. Booth babes may be out of the question, but hey, there's always a booth sock puppet. When you stop and think about it that would be pretty memorable, right?
No, not one of those that are pulled by your car. Movies generate excitement and interest by showing trailers before the main feature. You know, right before they warn you about smoking, using cell phones during the movie, and where the exits are located. It's the same with the world of gaming. Put together a good trailer, or even multiple trailers, to show players what all the fuss is about. This idea fits neatly with the idea of blogs, since that's where the trailers would ultimately reside. See? These things are interrelated.
I'll Alert The Media
It may seem obvious, but let's be complete here. Fire off e-mails to periodicals, websites, trade journals, any media source that fits the gaming nice you're going after, and introduce yourself. If you're not a known quantity, forget targeting the mainstream media, and focus instead on the smaller outlets that specialize. And while you're at it, generate some good word of mouth by notifying gaming bloggers. Try to cultivate a rapport with them, and let them help spread the word. But again, make sure that the blogs cover the type of game you're developing. A blog dedicated to paper and dice gaming will be a bad choice to market your new iPhone game that features steel cage death matches between pieces of sentient produce.
If you find yourself in the position of having both an awesome new game release and a shoestring budget, consider gathering together a dedicated group of gamers that you've given a preview of your game and they happen to love it. This loyal army may get paid in merchandise, free copies of your game, or any other benefits you can think of, and in return they spread the word on websites, forums, at conventions, whatever. They are your evangelists. Remember that the most effective, the most trusted advertising is word of mouth!
Final Thoughts
There are so many independent developers out there that it's easy to get lost in the crowd. You need to stand out, build a rep, and give the people a killer product.
Photo Credit: Photos.com