This September 12th, gaming blogs from around the world will be celebrating another excellent year of gaming, speculating what joys the coming year (and generation) may hold and reminiscing on some of the industry's finest hours. Because of this over-saturation of good news, we have decided to provide a bit of balance on this otherwise cheerful day by reminding you all of some of the gaming industry's most embarrassing failures.
We aren't talking just bad games either here folks. We are talking full scale security failures. Failures which burden gamers of both the casual and hardcore variety with at best a mild inconvenience and at worst the risk of losing their hard earned cash or even harder earned identity to black hat hackers. From Sony's enormous PSN data security scandal to Square Enix's tiny one, here we explore what happened, why it happened and what impact it had on gamers.

Square Enix: Job Application Leaks
In 2011, a subsidiary of Square Enix called Eidos had the servers of its Dues Ex: Human Revolution website hacked. The culprit managed to extract 25,000 E-mail addresses which were likely sold onto e-mail spammers. This isn't a particularly damaging leak by itself, as no password or financial information was leaked. The real damage was done to those who were looking for employment at the studio, 350 of whom had their CV stolen from the database. This is, obviously, much more serious as job hunters regularly include details of their home addresses, their current employer and other sensitive information as part of their CV which leaves them wide open to identity theft.
Sony Playstation: The "Working Within a Week" Fiasco
At some point between April 17th and April 19th the Sony Playstation Network suffered a security breach which would eventually unfold to be one of the largest data scandals of all time. The account details of over 77 million people were accessed and unceremoniously stolen form Sony's servers. These details included email addresses, passwords, physical addresses and, most shockingly, credit card details.
The repercussions of this were costly for Sony, who had to take insurance policies out on behalf of all 77 million users and pay fines totalling almost 400,000 dollars. The online gaming service was also offline for 24 days, much more than their seven day estimate, incurring costs of $171 million.
Ubisoft: Multiple attacks
In July this year a Ubisoft website was hacked and user account information stolen from the servers. In an unfortunate bit of PR for Ubisoft, one of their most anticipated upcoming releases focuses on hacking as a major theme in both the plot and gameplay. The games title is Watchdogs, and on the development team there even sits a former executive from Kaspersky Lab making for some unfortunate juxtaposition that the media simply couldn't resist. Combine this with another security breach attributed to Ubisoft's U-Play software, which allowed cyber-criminals to install software directly into gamers computers. It paints a picture of Ubisoft as a company that are far more interested in making games about cyber-security than actually ensuring that their users are secure.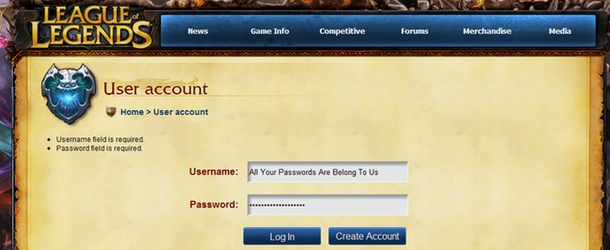 Riot Games: League of Legends Database Compromised.
Players of online e-sport League of Legends had an unwelcome surprise last month when usernames and passwords for the games entire North American player base were illegally extracted from Riot servers. Riot are also currently investigating the possibility that 120,000 transaction records could have been lifted from their database as well, potentially containing hashed credit card data. This overshadows the recent good news the company passed on to its fans when the US visa bureau granted the games top level players professional athlete visas, officially recognising the game as a professional sport.
Bethesda Game Studios: Hackers Added Insult to Injury
Bethesda studios, creators of series like Fallout and Skyrim, suffered an embarrassing data breach after their site and forum users information was compromised by hacking group 'LulzSec'. Once Bethesda announced the leak, Lulzsec responded by issuing a statement of their own saying:
"Bethesda, we broke into your site over two months ago. We've had all of your Brink (another Bethesda game) users for weeks. Please fix your junk, thanks!"
The hacking group also demanded that they feature their signature top hat logo in one of their upcoming games, threatening that if they did not comply then they would leak their user database. The whole affair was pretty humiliating for a developer held in such high esteem by the gaming community. Lulzsec have since disbanded.
Related articles
Other Articles