Now that 2013 is finally over, it's time to analyze a particular trend we've seen a lot in the last 12 months. Believe it or not, last year was pretty great for women in video games. They had leading roles and they managed to make their presence felt without looking too provocative. Don't get this the wrong way; men are still ruling the industry, but to some extent it's great that some developers paid more attention to a woman's role as well in a video game.
Tom Raider was successful because it was led by a female
That's right! Tom Raider might have had great mechanics, design, and visuals, but we have to admit that it attained success because it was operated by a female character-player. It was definitely a refreshing move and it brought an air of freshness to the whole gaming experience. Previous versions of the game were additionally based on a female character – namely Lara Croft – but this time the makers really managed to focus on other characteristics too, not just on the sexuality of the character-player.
Although the young Lara Croft we're used to is definitely an appealing virtual female, her looks and general appearance haven't overshadowed the most important aspects of the video game. She's not getting any special treatments in the game and she's not afraid to get stabbed or shot just to attain her goals.
Game developers have finally realized that female characters in video games can be sexy without looking too provocative. That's exactly what the makers of Tom Raider did; they created a good-looking Lara Croft whose one tough character, but she doesn't have to look too naked just to draw some attention.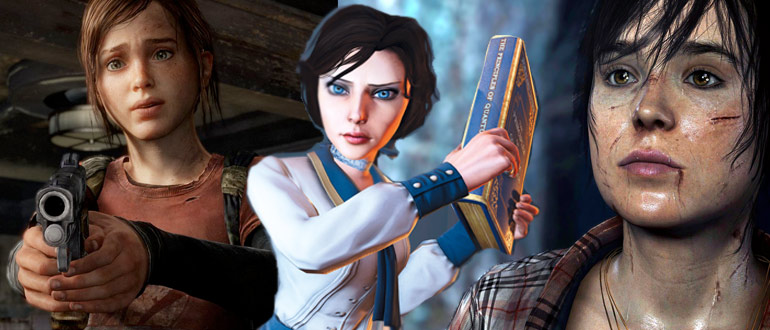 "The Last of Us" "BioShock Infinite" and "Beyond"
We've grouped "The Last of Us" with "BioShock Infinite" because they use women the same way into the game. Some have catalogued these two as the best of 2013, and to some extent that's true. Both Elizabeth and Ellie have a special connection to the male character as they're successfully waiting to be rescued.
"BioShock Infinite" and "The Last of Us" are being led by male character-players and the way women are integrated into the gameplay converts them into assets and not liabilities males have to constantly keep safe. In BioShock, Elizabeth is perfectly capable of taking care of herself, so you don't have to worry that her life is constantly in danger. As a matter of fact, at some point she will help you take down the bad guys.
In The Last of Us, you'll be surprised to see how tough Ellie can be. She's directly involved in the combat and she's capable of taking down the bad guys by herself, without additional help. In spite of the fact that the women in these two games have to be rescued, they're well-rounded characters able to fight back.
Beyond is a game you either hate or love. It is one of the most disruptive video games of the year that focuses its gameplay on a woman, played by real-life actress Ellen Page. Story-driven by an extremely intriguing plot, beyond centers on Jodie Holmes, and it's up to you to decide if she lives or dies.
Some other notable games centered on the presence of female characters were Assassin's Creed: Black Flag and Call of Duty: Ghosts. Their role was not that notable, but at least they were present and they didn't have a provocative purpose in the games, which was surprisingly interesting. At last game developers have started to use female characters for different purposes in video games, and from what we've seen so far 2013 was definitely a great year for women in the virtual environment.
Other Articles